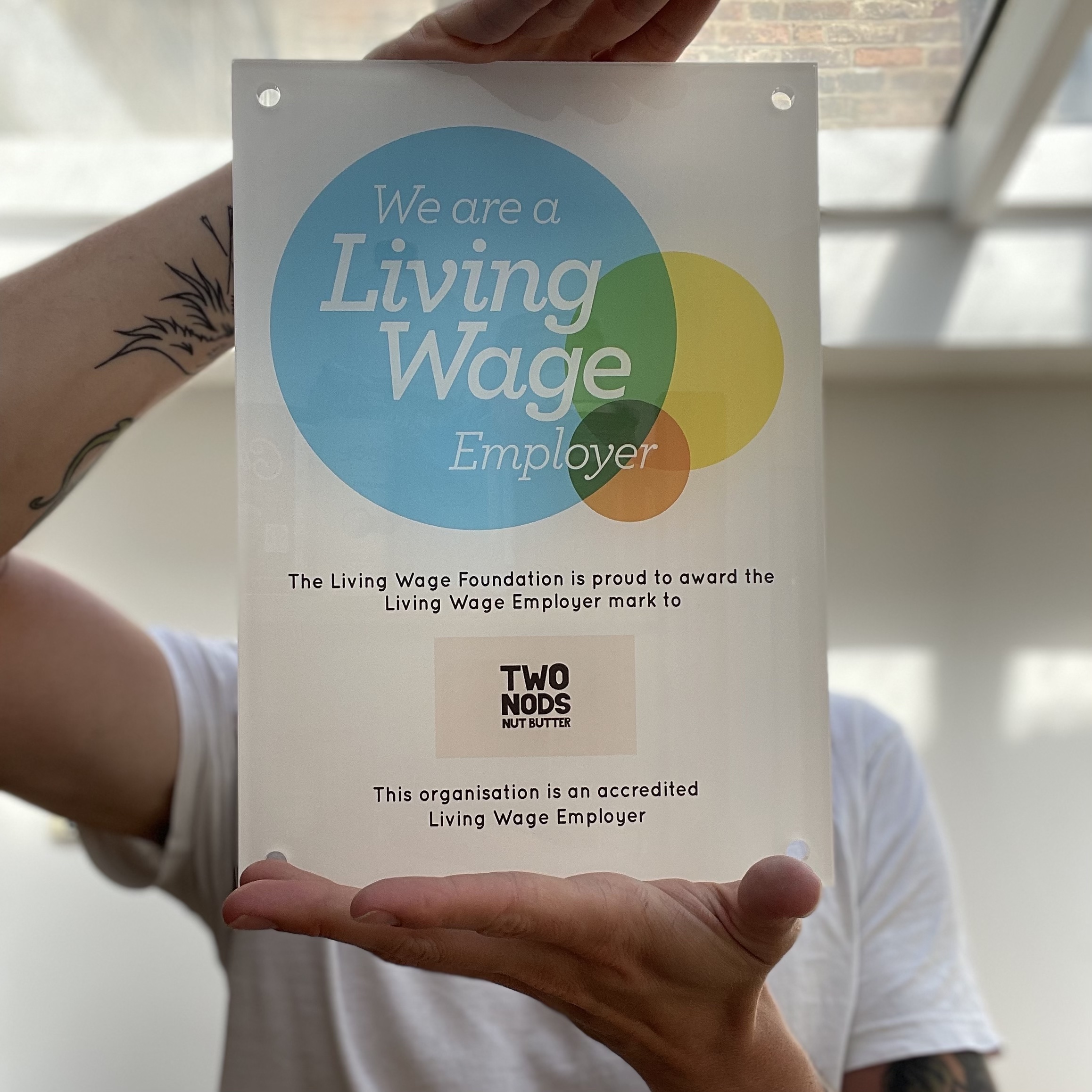 We are hiring a Sales Executive!!
Two Nods:
We're a South London based nut butter company, built on principles of transparency, environmentalism, and social conscience. We're a year old now (June 16th!) and looking to go big. London is where we are, but there's a whole world out there to explore. We're Living Wage accredited, with aspirations to become a B Corp. We have so many plans, and we'd love it if you came along with us.
Role description:
You'll be the one who is focused on leading and growing our direct, retail, and wholesale sales! We've got an exciting range of nut butters, and ample customers chomping at the bit to buy them. You're the missing link.
You'll source, develop, and convert new retailers and wholesalers, develop and implement strategic sales plans, and work behind the scenes on campaigns to boost our online sales. And of course, you'll have full use of our electric cargo bike!
As you'll be responsible for our sales channels, you'll also be managing our markets and market staff. This will include hiring, staff and site management, and growing our market presence. Exciting stuff if you ask me.
When you start, you'll be focused on boosting immediate sales across our three main avenues, as well as creating a strategic sales plan for the coming year. In the medium term you'll be going beyond both the borders of the M25 and the British Isles. In the long term, you'll be helping to turn us into a FMCG machine.
Being a small business every role is flexible, and you'll need to be too. We expect that sometimes when you're asked to muck in with production you'll be happy to get your hands dirty; when you're asked to sit in on a marketing meeting you'll come with ideas; and when we ask you to help pack an order, you'll grab the parcel tape. While most of your attention and time will be spent leading our sales, variety is the spice of life!
We'll take care of everything else, you just get out there and sell baby sell!!
Required attributes:
2-3 years of previous sales experience in the FMCG space (or relevant other sales experience, depending on style)
A thirst for sales and hitting ambitious targets, self-set and employer-set
Outward and confident presenter who can embrace our values and our tone fully
Cycle skills – we have a three wheel cargo bike
Flexibility, and an ability to 'get-on-with-it', rolling with whatever comes your way
An interest in leading small food businesses to brand success
A knowledge of the London and wider-UK food markets, trends, and issues.
Preferable attributes:  
Prior sales experience in a market, food retail, or hospitality
Calming demeanor to be around
Willingness to speak your mind, no matter who you're talking with
High GSD (Get Shit Done) factor
Having an entrepreneurial mindset and approach.
Desired history:
You would've come from an existing sales role, so you understand the world we operate in now – a few things have changed in the past years! You might've been on the other side of the interaction before, managing a café, independent grocers, or a deli. Broad spectrum cultural literacy is very important too – while the UK is our focus now, the future holds markets beyond our borders.
Remuneration: Competitive salary, influenced by experience (above London Living Wage), 28 days holiday, + performance bonus.
Hours: Full time, 5 weekdays (from home, from shared workspace, from company headquarters) 8 hour weekdays with flexibility around how you make those hours.   
If you have any questions, or are interested in applying please send your CV and a short note about yourself and why this role applies to jason@twonodsnutbutter.com with the subject line [Full Name] Sales Executive Application. In order to sift mass-appliers from those who are genuinely interested in the role, please answer the question "what hot drink do you order at a café" in the application. Thanks!