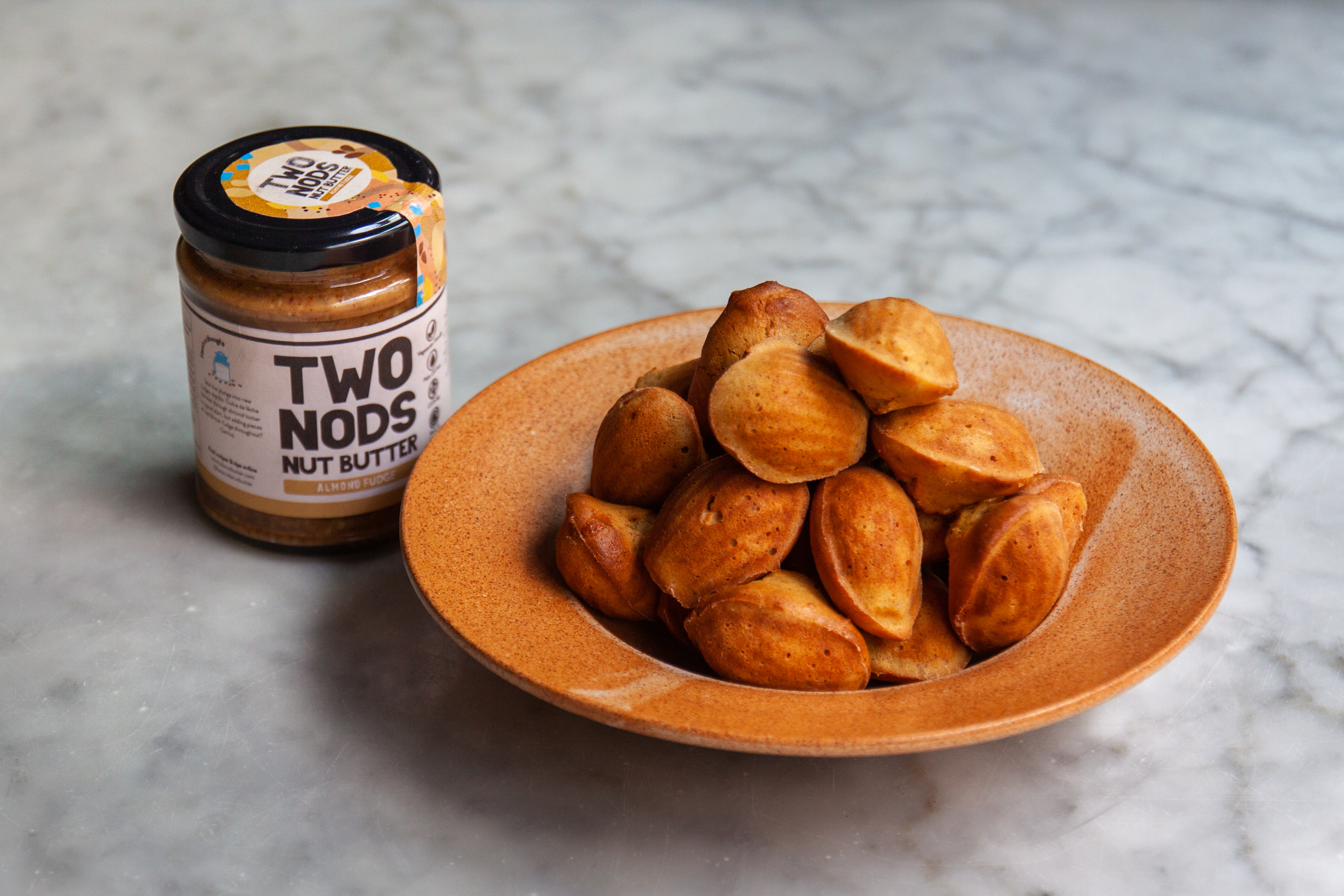 5 tablespoons of Almond Fudge Butter (or Almond Butter if you missed the one-off)
3 tablespoons of butter, and more for greasing the tray
1/2 teaspoon of vanilla extract
2 large eggs (don't keep your eggs in the fridge!!)
Flaked Cornish Sea Salt (or whatever your most local coastal salt is)
1/3 cup of caster sugar
1/2 cup plain flour
Heat a small pan on a medium heat, adding the butter and nut butter. Whisk, and once combined add the vanilla. Leave to rest and cool.
In a stand mixer or electric beater, beatthe eggs and salt until frothy. On a slower speed, add the sugar, the speeding back up again beat until the eggs have doubled in volume.
Slow the beaters down again, right down. Slowly add the nut butter mix. Then add the flour, folding in with a spatula. Be careful not to overmix. Cover, and rest in the fridge for an hour.
Meanwhile, grease the madeleine pans, then dust with flour. After this, freeze the tray to help lock in the butter till ready to use.
Heat the over to 190ºC. Remove the mixture from the fridge and scooop the batter into each cavity. We use two spoons to do this. Bake for 10-12 minutes until the edges are crispy and the tops are golden. Allow to cool slightly before tucking in.
There's variations where you could dip them in melted chocolate and chopped almonds after, but the joy of this recipe is you have lots of flexibility. Just keep the proportions the same, and you can use different nut butters, or different dippings. Me? I'm a purist, so I wouldn't want to mess around too much.
Don't forget to tag us in your creations! @twonodsnutbutter 🥜